How I went from being an MBA Graduate to Manager Data Analytics
---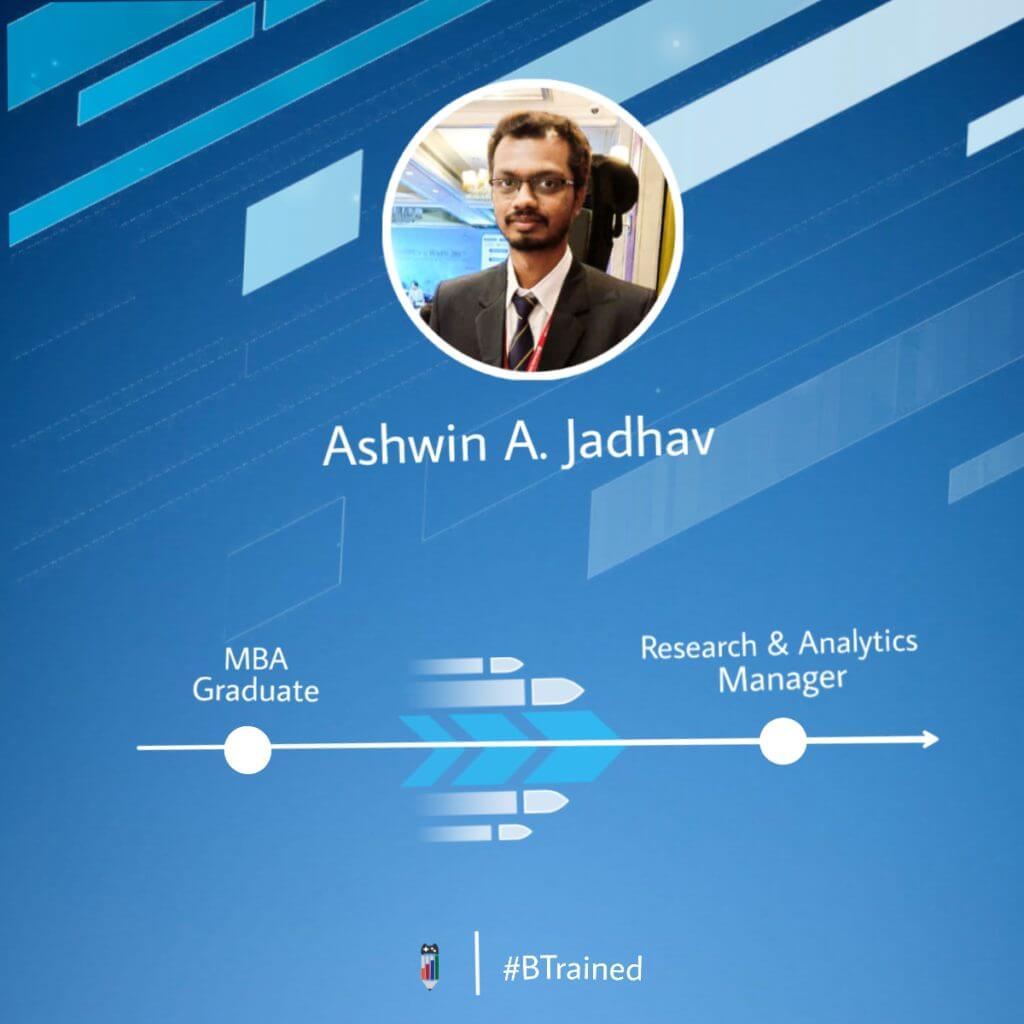 My name is Ashwin A. Jadhav and I am a Manager of research and analytics at HappiDoc Company.
My Journey in Data Science is quite intriguing. As a matter of fact, being a B.com and an MBA graduate, I never in my wildest dreams thought about working with Data. Surprisingly I was oblivious to the power of data.
I was attending the conference of confederation of Indian Industries and that is where for the first time I heard speakers talking about Data. Over there I realized how fascinating Data is and the power one has who can analyze the data to solve world problems. I was fascinated by the remarkable facts shared by various speakers on Data Science and Machine Learning, and that is when I decided that this is one field that I would surely love to pursue and gain more knowledge in.
Now my quest to finding a good Institute began. Being a newbie in this field I was quite baffled and took the help of my friends who were either studying Data Science or had already completed their training. What I found disheartening was that people who had completed their training were still struggling to find internships and jobs, and this made me wonder whether I will succeed to get placed or not.
I did take up courses from other institutes but recorded videos weren't of much help to me. I came across Business Toys Institute through a friend of mine who was already doing Data Analytics training with them. I initially did short terms courses like Business Analytics with them when I finally decided to take the plunge and do fully-fledged Post Graduate Program in Data Science.
Let me tell you what I admired the most about this Institute. It is their course structure and teaching methodology. We are taught what the industry demands. From excel, advanced excel, deep learning, data analysis to regression, LSTM, model selection, and deployment, etc. All topics which are essential for us to crack interviews are covered in the Data Science course structure. Moreover, we are taught using various practical tools like case studies from industries, workshops, assignments and projects. I personally enjoyed getting trained at Business toys. It is very interesting and focused to the point as to what will help us get placed. Most importantly, coming from a commerce background, I could easily grasp the python programming and various data science concepts. Besides Omkar sir teaches us in a simple and easy to understand manner. I believe that it was my training here that quickly got me an internship.
Another plus point of Business Toys is the friendly atmosphere created by the mentors and staff of the institute. We don't feel like we are students of Business Toys. When I was training here, this place and the mentors especially Omkar Sir became like a family for me. Omkar sir is extremely experienced and a mentor in true sense. From the time I joined the Institute, my training, applying for jobs, mock interviews, internship to finally getting placed; mentors at Business Toys supported me throughout.
Now, let me tell you about the projects we get to work on at Business Toys. And believe me, projects are one of the most important criteria that will help you get a job in Data Science. During my initial research and inquiry for Data Science Colleges, I got to know from a couple of people who were already doing their training that their Institute provided them with projects + set of Instructions to complete the projects. When I joined Business Toys, I thought it would be the same here. But I was proved wrong. Here the mentors gave us unstructured and unclean data and we were asked to work on it our way and come up with solutions. We were given guidance only when we got stuck and were clueless. I believe their restrictive method was a blessing for me because independently working on end to end projects helped me develop my problem-solving skills. I worked on 15 projects and the ones I found most interesting were on HR and Marketing.
Another aspect of Business toys I found interesting is that Business Toys doesn't guarantee Job Placement as most institutes do. They do help in placement support and believe that their training is what will help us get placed and that is so true. I know that most students who come to Business toys graduate with an offer letter in hand.
To aspiring Data Scientists, all I can say is don't train in Data Science because of the rising demand and high salary packages. Learn Data Science to Upskill yourself. It is your skills that will help you land a good job.