Sunil Choudhari's Journey from Engineer to a Successful Data Analyst
---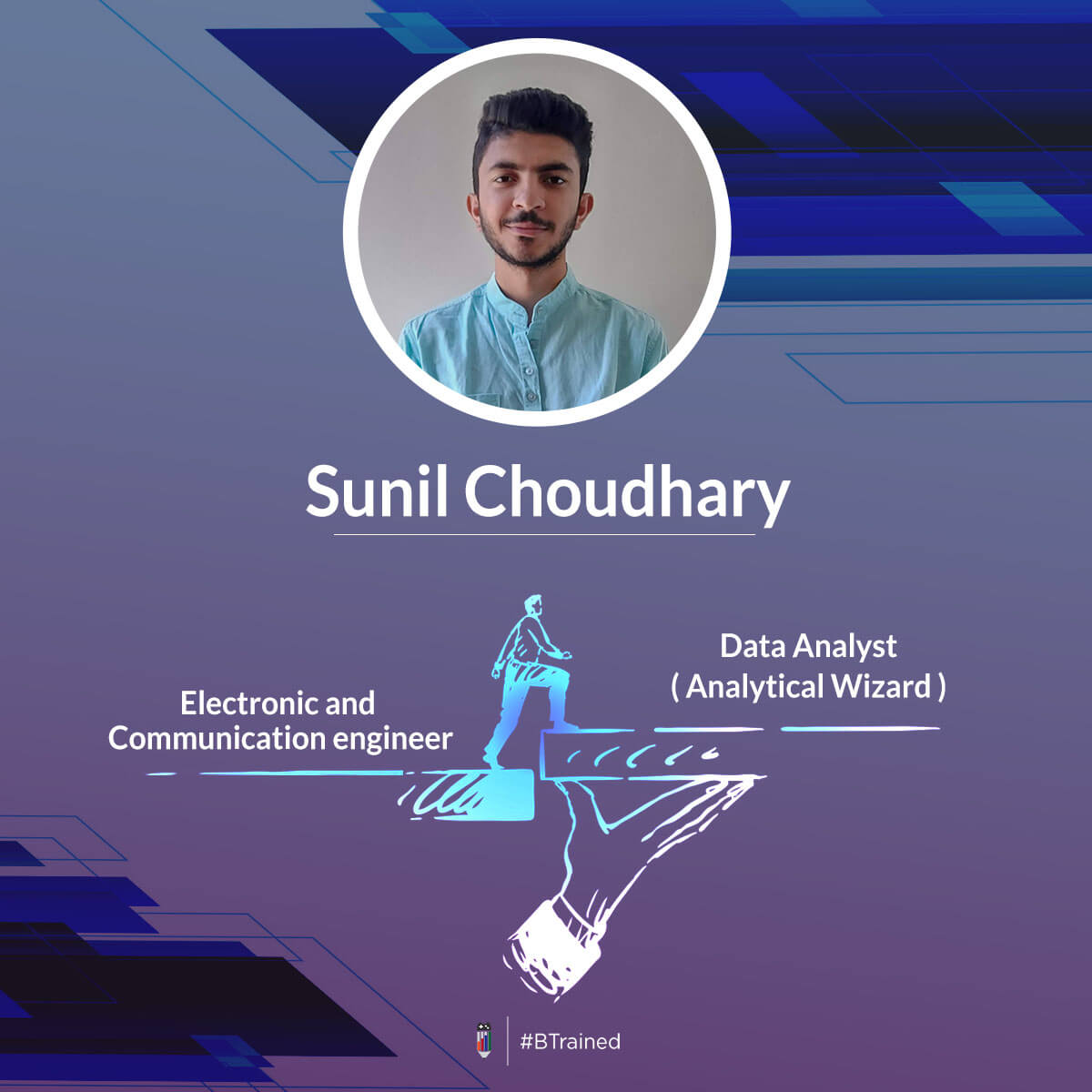 My name is Sunil Choudhari and I am currently working with Analytical Wizard as a Data Analyst.
Before starting my journey with Business Toys and in field of data science, I had completed my Electronic and communication engineering degree and after pursuing my degree I always had in my mind to explore my interest and knowledge in analytics and data science. While pursuing my degree I came to know about data science course from one of my family member who already had pursued this course in business analytics. I was so impressed by what my relative said that I too decided to pursue Data Science course from Business Toys Institute.
When I started with my course I thought it would be more of classroom type of situation where normally teaching methods and learning environment will be same but things turned out completely different for me. Besides teaching theory, mentors taught us using lots of practical applications and projects which helped strengthen my Data Science concepts.
The planning regarding how to approach and pitch the students regarding course material was very impressive. Business Toys always take into consideration that every student is a fresher and does not know anything about the course therefore what happens is each student from any field, with any work experience gets a chance to learn and gain knowledge right from the beginning.
I started attending the classes which were held for the duration of 6 months and the best part about this institute is the study material that they provide. Throughout the course we were taught using tools like videos, real life cases; industry problems, etc which till date help me at my workplace as well. During this course I have completed 15 plus projects like NLP, Scrapping, recommendations engine and lots more.
Business toys was very clear about the placements and they told us clearly that placements are completely based of each and every students effort and hard work, but the guidance and support throughout the process of placements is very good from Mr.Omkar Sir and team. There are different sessions for interviews, updating resume and Q&A during Interviews.
Personally, for me commitment and hard work towards your work will give you success and that is what I believe business toys strongest aspect Is. Although there are many options available for an individual to make a career in different fields but business analyst and data scientist is definitely a great field where any individual can make career. According to me before entering into any stream or field, fundamentals of that particular field should be very clear and for me Business Toys is a leading institute in helping Data Science aspirants to get their concepts right. Due to fundamentals I came to know about the demand of business analyst and data analyst in different sectors and industries.