Vaibhav's Journey from engineering graduate to successful Data Analyst
---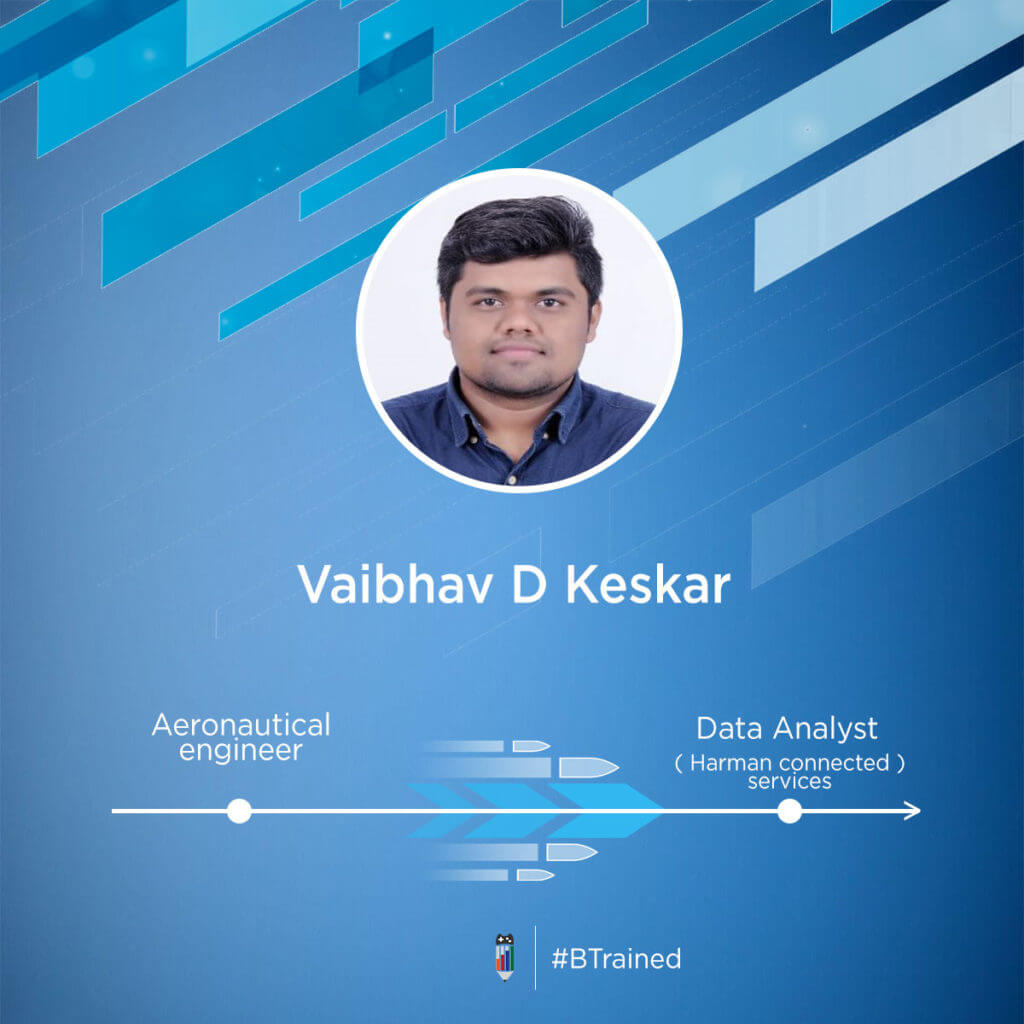 My name is Vaibhav.D.Keskar and I am currently working with Harman Connected Services as a Data Analyst which is a Samsung subsidiary.
Before starting my journey in business toys and in field of data science, I had completed my Aeronautical engineering degree and as a fresher was searching for job opportunity in this domain. During this process I got a chance to meet Mr.Omkar sir and he suggested as well as helped me to understand what data science is and encouraged me to take upon this course.
For my understanding data science was something related to coding and only computer science people can pursue this course and me being from mechanical background, I thought data science was definitely not my cup of tea. But definitely I was oblivious to the power of data science.
After gaining information about this course and how it will help me to pursue my career afterwards, with the help of Mr.Omkar sir I was ready for this challenge and learn something innovative. And just after I started with this course in the business toys Institute, the methodology of teaching and way of conducting this course gave me confidence in Data Science.
I started attending the classes which was held for the duration of 6 months and before starting as I was a complete fresher, I had some of my friends who were pursuing this same course help me. The best part about this institute is the study material that they provide throughout the course like videos, real life cases; problems which till date help me at my workplace as well. During this course I have completed 15 plus projects like NLP, Scrapping, recommendations engine, etc.
Business toys have never had restrictions or limitations on learning innovative things. It allows an individual to get trained and learn the skills to tackle the real world.
Mr.Omkar sir helped to build my resume, and he specially guided me personally throughout my placement process, how to get an interview – post the resumes on different job portals like Naukri and Monster.
Personally, for me commitment and hard work towards your work will give you success and that is what I believe business toys strongest aspect Is. In today's world where things around us changes so quickly and technology is replacing everything possible therefore to cope up with this change one should really take up data science course, not because of high demand and packages In the market but to update yourself.